CORALINE AEIMERTON – Product Manager
I am looking for "professional crush".
I am currently working for WiziShop in Nice since 6 years, where I'm in charge of the digital product. My job consists in analyzing the customers' needs to build the best product with the Web developers. For that I have to prioritize the different projects and write the specifications. When I'm in charge of a project, I follow it from A to Z until the different tests and possible requests for corrections.
In my previous job at Guides Shopping (a subsidiary of the WiziShop group), I was in charge of managing digital marketing actions (SEO, SEA & SMO), automating different marketing processes, managing digital projects (website redesign: UX/UI & webdesign). More precisely, I was the right hand of the digital project manager for our different shopping guides (UnCadeau.com; Archigourmet.com; JeVeuxDesBijoux.com; PourLaMaison.com; PourBebe.com) and Social Media Manager (Community Manager) for two of these guides (Pour Bébé and Archigourmet).
I also work sometimes as a freelance (auto-entrepreneur) on different projects as a Graphic / Web Designer.
By nature multi-skilled, I like to work on different projects. Thanks to my range of skills, I can be a real "Swiss Army knife". Curiosity being one of my biggest weaknesses, I like to keep myself informed of the latest trends in digital. My autonomy has always been a real plus and allows me to be a force of proposal. My professional experiences have allowed me to know how to analyze the needs of the company and to answer them in the most appropriate way. My passion for Art has allowed me to develop my creativity and to know how to create visual representations using computer tools such as Photoshop, Illustrator or Indesign. My love for Digital has led me to handle different CMS like WordPress, to create websites, to optimize their natural referencing and to manage advertising campaigns on the web,…
Coraline Aeimerton
DIGITAL PRODUCT MANAGER
Wizishop | NICE
06/21 – in position
Analysis of customer feedback and projects prioritization
Project management and specification writing
Testing, bug reports and requests for corrections via GitLab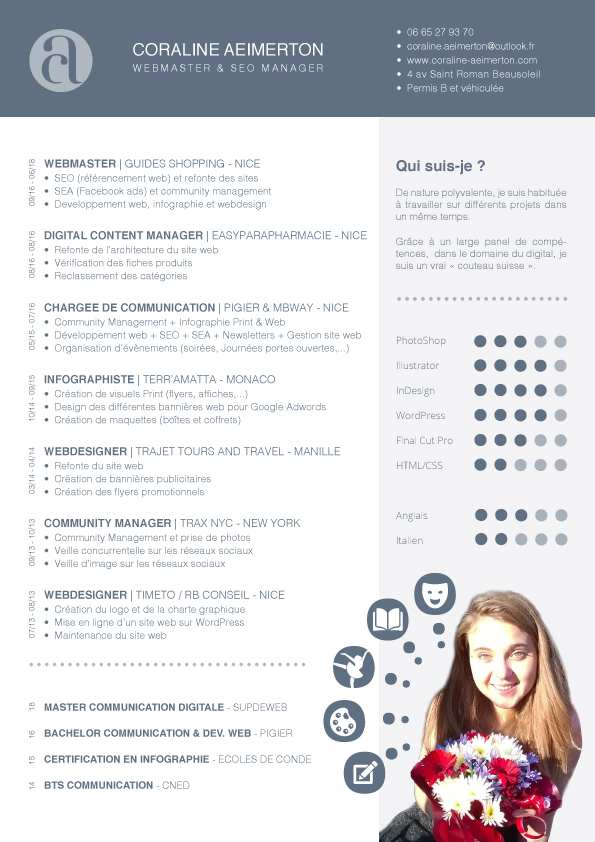 WEBMARKETING
GUIDES SHOPPING | NICE
09/16 – 06/21
SEO (natural referencing) and redesign websites
SEA (Facebook ads) and community management
Développement web, Graphisme and WebDesign
GRAPHIC DESIGNER & WEBDESIGNER
03/11 – nowadays  |  FREELANCE  |  BEAUSOLEIL
Graphic creations Print and Web
Creation of websites
Writing articles for SEO
COMMUNICATIONS OFFICER
05/15 – 07/16  |  PIGIER & MBWAY  |  NICE
Community Management + Graphic design Print & Web
Web developement + SEO + SEA + Newsletters + WebMastering
Event planning (party, Open days,…)
WEB DEVELOPER FULL-STACK
11/17 – 01/18  |  GUIDES SHOPPING  |  NICE
Web programming : PHP – HTML – CSS
Framework PHP MVC : Symfony
Back Office : Javascript – MySql – Git
GRAPHIC DESIGNER & WEBDESIGNER
03/14 – 04/14  |  TRAJET TOURS AND TRAVEL  |  MANILLE
Redesign of websites
Graphic Design of web banners for advertising
Graphic Design of promotionals flyers
DIGITAL CONTENT MANAGER
08/16 – 08/16  |  EASYPARAPHARMACIE  |  NICE
Redesign of the architecture of the website
Verification and optimization of product sheets
Reclassification of products and categories
GRAPHIC DESIGNER & WEBDESIGNER
07/13 – 08/13  |  TIMETO / RB CONSEIL  |  NICE
Graphic design of logo and graphical charter
Design a website online with the CMS WordPress
Maintenance of the website
GRAPHIC DESIGNER & WEBDESIGNER
10/14 – 09/15  |  TERR'AMATTA  |  MONACO
Graphic design for Print (flyers, posters,…)
Design of web banners for Google Adwords
Graphic design of mockups
COMMUNITY MANAGER
09/13 – 10/13  |  TRAX NYC  |  NEW YORK
Community Management and taking pictures
Competitive intelligence on social medias
Picture standby on social medias
MASTER IN DIGITAL COMMUNICATION
2016 – 2018  |  SUPDEWEB  |  NICE
SEO/SEA, Community Management
WebDesign : PhotoShop & After Effect
Web developement
BACHELOR IN COMMUNICATION & WEB DEV.
2015 – 2016  |  PIGIER  |  NICE
Marketing & Communication
SEO/SEA & Community Management
Web developement & WebDesign
CERTIFICATION IN GRAPHIC DESIGN
2014 – 2015  |  ECOLES DE CONDE  |  NICE
Graphic Design for Print : Photoshop, Illustrator & InDesign
Understanding the Graphic Chain
Web developement & WebDesign
BTS IN COMMUNICATION
07/13 – 08/13  |  CNED  |  NICE
Marketing & Communication
Be awareness on the digital law
Business management