CORALINE AEIMERTON – WEBMASTER
Always fascinated by art, I turned to a BTS (TWO-YEAR TECHNICAL DEGREE) in Communication which I obtained in 2014 with the regional education authority of Nice. Being more attracted by creation, I did a training course of Computer graphics at École de Condé of Nice where I obtained a certificate in 2015. During this training I acquired skills in : Photoshop, Illustrator, Indesign, Dreamweaver.
At the moment, I am in a professional training contract in Communication to prepare my Bachelor Management of Companies (Certified Title level II Head of communications and Web development) proposed by The School Pigier Performance of Nice where I deepened my knowledge in HTML / CSS / CMS / SEO / SEA.
Coraline Aeimerton
WEBMASTER
GUIDES SHOPPING | NICE
09/16 – 06/18
SEO (natural referencing) and redesign websites
SEA (Facebook ads) and community management
Développement web, Graphisme and WebDesign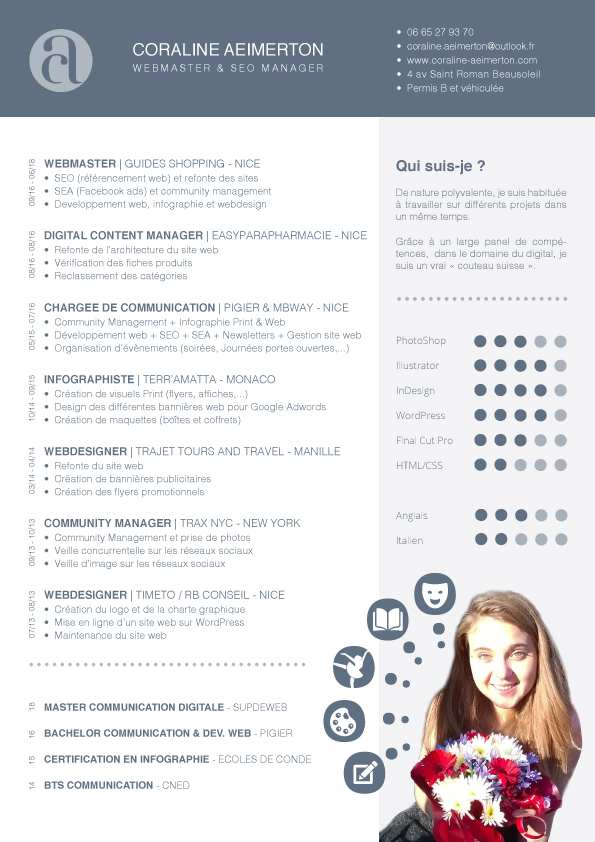 COMMUNITY MANAGER
09/16 – 06/18 | GUIDES SHOPPING | NICE
Brands : PourBébé.com & ArchiGourmet.com
Graphic creations & sharing on social medias
Establishment of a editorial planning
GRAPHIC DESIGNER & WEBDESIGNER
03/11 – nowadays | FREELANCE | BEAUSOLEIL
Graphic creations Print and Web
Creation of websites
Writing articles for SEO
COMMUNICATIONS OFFICER
05/15 – 07/16 | PIGIER & MBWAY | NICE
Community Management + Graphic design Print & Web
Web developement + SEO + SEA + Newsletters + WebMastering
Event planning (party, Open days,…)
WEB DEVELOPER FULL-STACK
11/17 – 01/18 | GUIDES SHOPPING | NICE
Web programming : PHP – HTML – CSS
Framework PHP MVC : Symfony
Back Office : Javascript – MySql – Git
GRAPHIC DESIGNER & WEBDESIGNER
03/14 – 04/14 | TRAJET TOURS AND TRAVEL | MANILLE
Redesign of websites
Graphic Design of web banners for advertising
Graphic Design of promotionals flyers
DIGITAL CONTENT MANAGER
08/16 – 08/16 | EASYPARAPHARMACIE | NICE
Redesign of the architecture of the website
Verification and optimization of product sheets
Reclassification of products and categories
GRAPHIC DESIGNER & WEBDESIGNER
07/13 – 08/13 | TIMETO / RB CONSEIL | NICE
Graphic design of logo and graphical charter
Design a website online with the CMS WordPress
Maintenance of the website
GRAPHIC DESIGNER & WEBDESIGNER
10/14 – 09/15 | TERR'AMATTA | MONACO
Graphic design for Print (flyers, posters,…)
Design of web banners for Google Adwords
Graphic design of mockups
COMMUNITY MANAGER
09/13 – 10/13 | TRAX NYC | NEW YORK
Community Management and taking pictures
Competitive intelligence on social medias
Picture standby on social medias
MASTER IN DIGITAL COMMUNICATION
2016 – 2018 | SUPDEWEB | NICE
SEO/SEA, Community Management
WebDesign : PhotoShop & After Effect
Web developement
BACHELOR IN COMMUNICATION & WEB DEV.
2015 – 2016 | PIGIER | NICE
Marketing & Communication
SEO/SEA & Community Management
Web developement & WebDesign
CERTIFICATION IN GRAPHIC DESIGN
2014 – 2015 | ECOLES DE CONDE | NICE
Graphic Design for Print : Photoshop, Illustrator & InDesign
Understanding the Graphic Chain
Web developement & WebDesign
BTS IN COMMUNICATION
07/13 – 08/13 | CNED | NICE
Marketing & Communication
Be awareness on the digital law
Business management